Die Devices is pleased to announce our partnership with Analog Power for support of Power MOSFET bare die products.  Analog Power was established in 2002 to specifically focus on power management and is dedicated to MOSFET products.  Analog Power is an international vendor having locations in  USA (San Jose, California), Hong Kong and Taiwan.  Analog Power's die products are fabricated to the same quality and reliability levels of larger semiconductor companies and benefit from an undiluted engineering focus and technical resources 100% committed to MOSFET technology.
Unlike other larger semiconductor vendors, where volume needs of the package discrete business are prioritised over support of the product in bare die form, Analog Power treat the MOSFET bare die format equally in importance as the packaged discrete.  Access to product is flexible with factory MOQs which suit the project need.  Conversely when volumes ramp, economies of scale, usage of leading processes and fab production still ensure that product is competitively priced.  As there is no link between package part sales and bare die sales volume, the risk of commercial obsolescence impacting wafer availability is lower and only genuine technology obsolescence means a part can't physically be supported.  For longer term projects the technology obsolescence rate is very low with many old programs still being supported by older processes such as Planar MOSFET.
Product summary available in bare die  
| | | | |
| --- | --- | --- | --- |
| N - Low Voltage (<=75V) | N - High Voltage (>75V) | P - Low Voltage (<=75V) | P - High Voltage (>75V) |
| VDS 16V to 75V |  VDS  80V to 800V | VDS -12V to -60V | VDS -80V to -250V |
|  ID 0.32A to 500A | ID 0.39A to 200A | ID -0.5A to -55A |  ID -0.2A to -55A |
| RDS(ON) => 1.5mΩ | RDS(ON) >= 4.5mΩ | RDS(ON) >= 2.5mΩ | RDS(ON) >=11.2mΩ |
Please use our Parametric Search Tool or select a part from the product family list.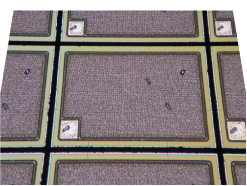 Summary technical benefits:
Choice of passivated or unpassivated wafers
Characterisation or electrical selection on request e.g. RDS(ON) @ specific voltage
Fast response technical support.
Summary commercial benefits:
Low Minimum Order Quantity for prototyping
Ease of availability for die drawings
Policy of low obsolescence and support for older fab processes.